All our rooms both external and internal ones are spacious and bright with large windows with screens.
All furnished with care and attention to detail, at your disposal double pillows, fresh sheets of pure cotton and linen, double blankets and duvet in winter, set of terry towels and towels for the pool, the bathrooms are large and modern, with a hairdryer, toiletries and mat consists of shampoo, shower gel and body lotion.
In all rooms you can find air conditioning or fan and for the winter every room is equipped with central heating. You will also find the phone, wifi, and a mini bar.
In the small country houses Pieve and Capriata there is a fully equipped kitchen and a table where you can prepare snacks or anything else. Each room has a closet, a desk, bedside tables with lamps, chairs, paintings, carpets ... the thing that everyone envies, however, is the comfort of our mattresses ..not want more abandon soft blankets that envelop you in oxen of the night.
THE FIRST FLOOR
The first floor of the main house has 3 bedrooms, 1 living room with original fireplace and running, under a large scale and a large terrace ("the terrace of geraniums") with stunning view, where guests can relax for breakfast or a drink at the tables and chairs at their disposal.
Here you will find the Suite LOGGIA one double bedroom with en suite bathroom with a bathtub in the corner with stunning views of the valley and roses, this is for 2 people.
Suite VOLIERA is a double bedroom with en suite shower room with access to the terrace through a nice door, this is for 2 people;
Suite VOCABOLO is a very big room (for 2/4 people) with direct access to the terrace through French windows and a sitting area separated by a curtain with a double sofa bed which can sleep two people, bathroom en suite.
Through a wooden very scenic staircase you can go to the top floor where there is a nice library inserted within a gallery: this is the oldest part of the house is said to be a watchtower Lombard.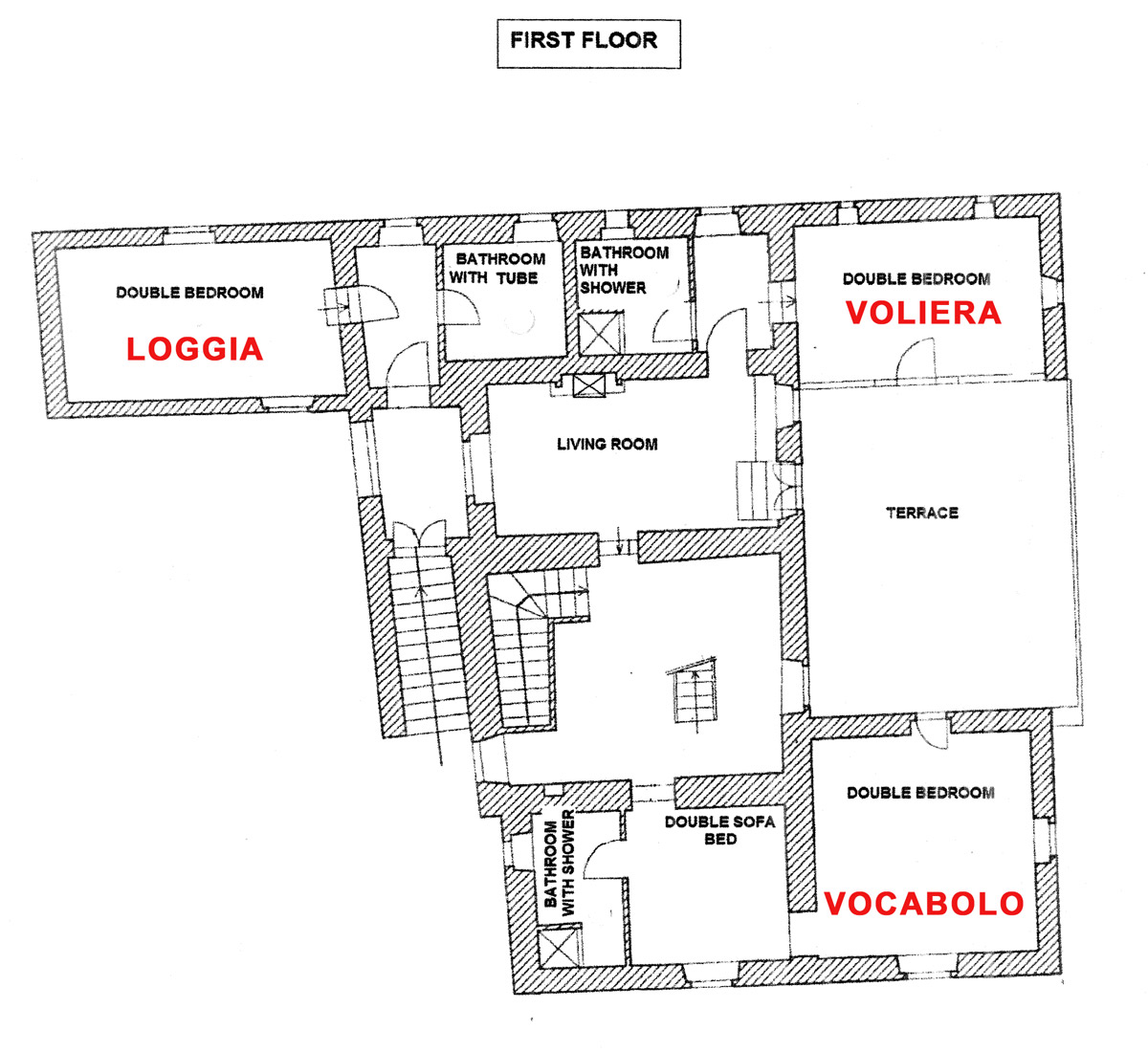 In this environment is the ultimate suite, the TORRE room. The room consists of a master bedroom with a double bed and a living room with fireplace and double sofa bed.
The two rooms are separated by a door but share the same bathroom en suite, here are hosted 2 / 4 people.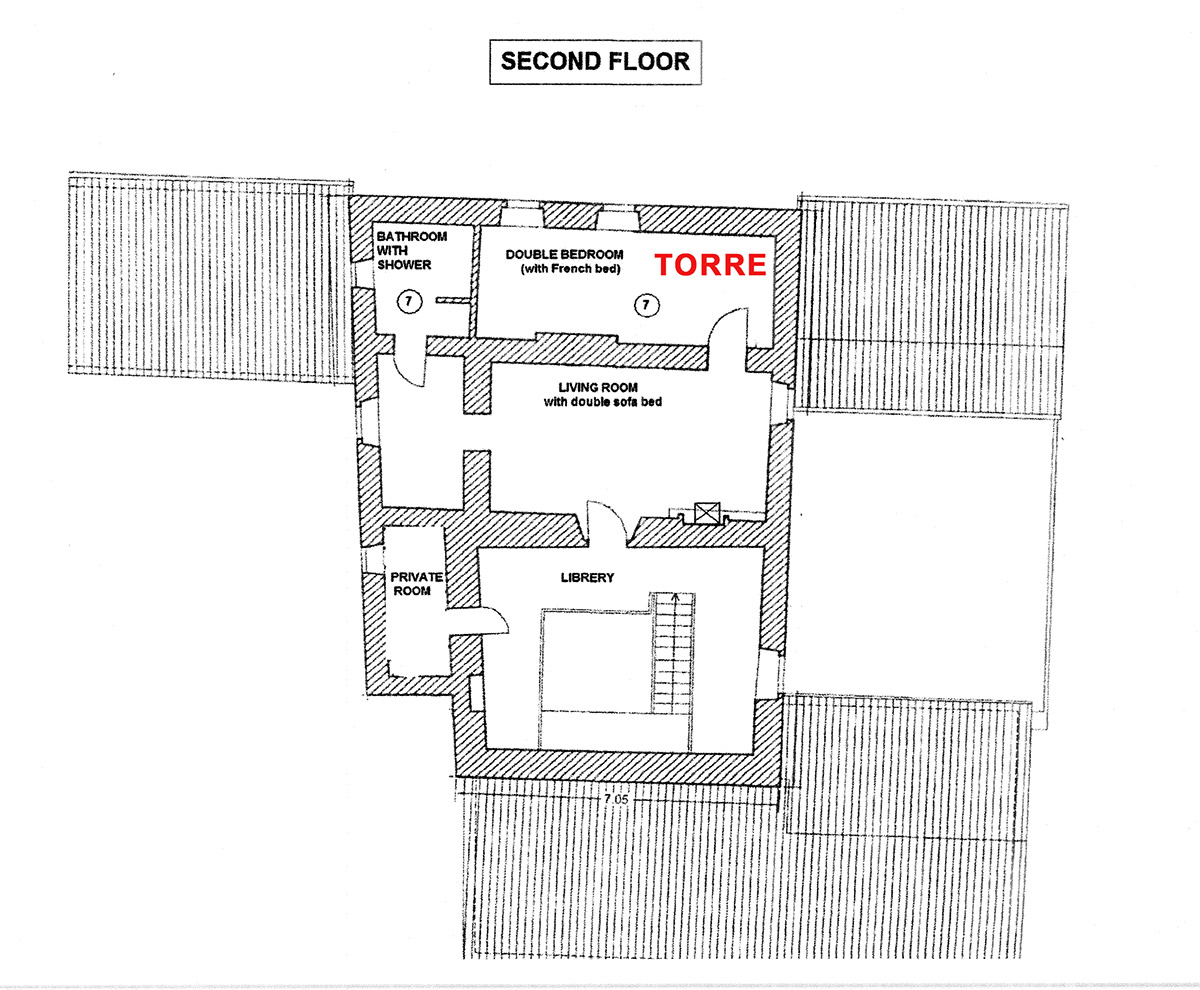 COUNTRY HOUSE "LA CAPRIATA"
The name of this country cottage is Capriata and is about 30 m from the main house. This environment is arranged in a single plane, its name recalls the great wooden truss placed above the bed the Italian name is Capriata. The wooden beams, columns and tiles are exposed. The floor is partly wooden part was recovered the ancient terracotta that was found in the chapel next door. You log in through a French door that leads directly from the ground floor in the master bedroom and is equipped with two bathrooms, a disabled toilet and a bathroom with hydro-massage shower. The room has a classic wardrobe and one in which there is a small kitchen very popular with guests because equipped with everything needed for cooking. The room has its own garden with table and chairs, suitable for 2 or 3 people.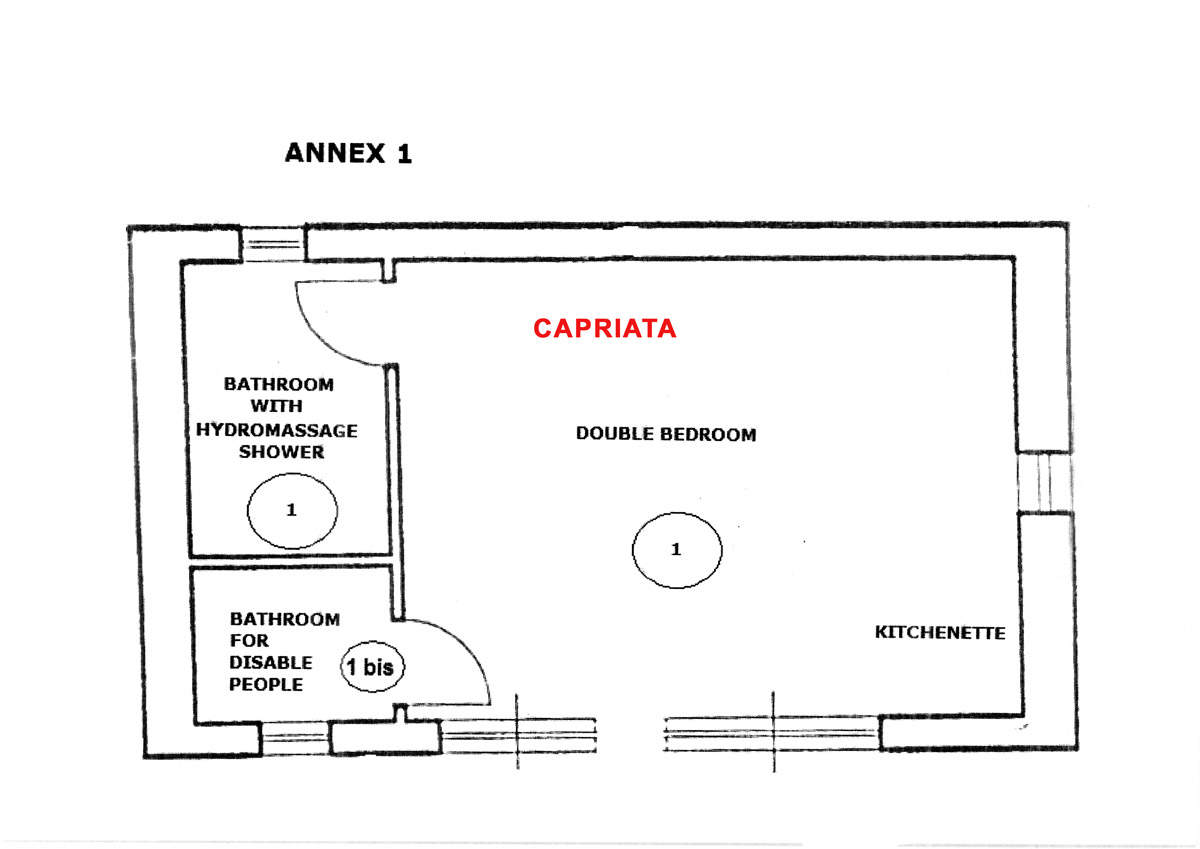 THE OLD CHURCH "Pieve and Fonte"
This was once a small church transformed over the years into a former squeegee where it was left to dry tobacco we created after a long and arduous restoration, two delightful suites; named Pieve and Fonte. On the ground floor we have the suite FONTE where there is a double bedroom with en suite shower room that can accommodate 2 or 3 people. From this floor, through a terracotta stairs leads to the upper floor where there is suite PIEVE a master bedroom with en suite bathroom with shower. The room has a closet in which there is a small kitchen with refrigerator. The two rooms are completely separate despite being one above the other.